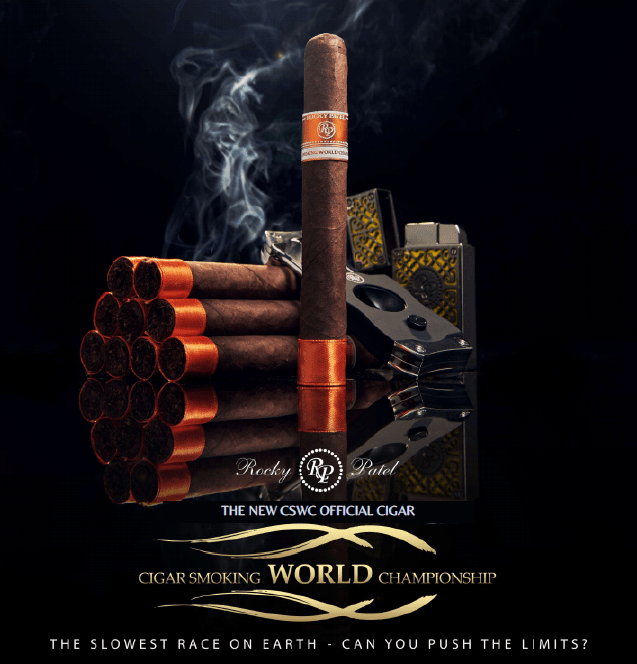 Rocky Patel Cigar Smoking World Championship
Buffalo Cigars is honored to have been selected as a location for the Rocky Patel Cigar Smoking World Championship, hosted on Tuesday 7/26/22 at our Orchard Park location. We are one of only a handful of cigar lounges in the US selected for this prestigious event.
To enter, guests must purchase a 4-pack of Rocky Patel Cigar Smoking World Championship cigars, $50.00 retail cost. They will receive entry into the event + 1 cigar for the competition.
Guests will hand select their cigar, and will receive a cigar cutter and two matches (long ones). Participants will have 1 minute to prepare the cigar. The cigar is lit with one or two of the matches, and allowed one minute burning time. Cigar must be kept in the hand during the whole competition. Judges may issue warnings and disqualifications at their sole discretion. The cigar is to be smoked up to the competition ring. Keeping the cigar ash gives an advantage to the participant.
The winner of the competition is the person who smokes the cigar for the longest time without turning it off.
Winner will get a chair in the US championship in Indianapolis. Then, the winner there will be headed to Croatia for the World Championship! Prizes also issued for 2nd, 3rd & 4th place.
7/26/22 · Competition begins at 7pm · Orchard Park location